The 12 Best Low-Carb Rice Substitutes, According To Nutritionists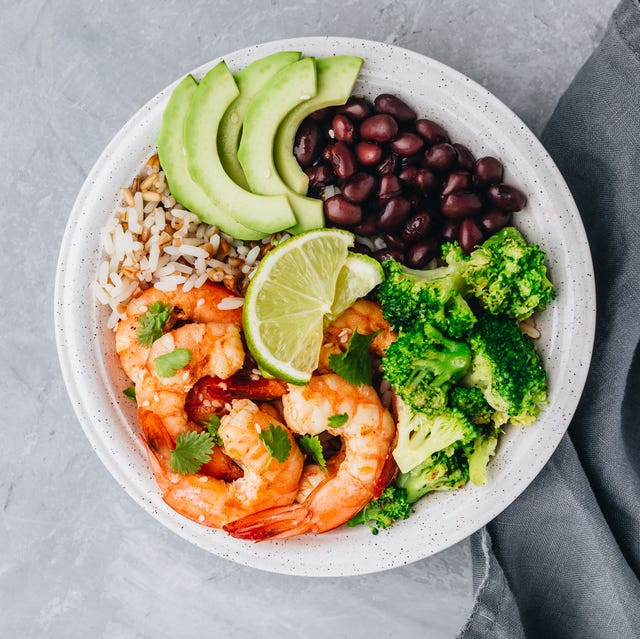 wmaster890Getty Images
Rice is a must-have for Chinese takeout and Chipotle runs—or at least it was before keto and cauliflower-everything pretty much blacklisted the stuff.
While rice (namely brown rice) offers some legit benefits—like good ol' fiber—it's not exactly low in carbs. (Half a cup contains 39 grams, per the USDA) So if you're living the keto life, or just trying to cut down on carbs a smidge, you may not want to crush rice-filled burritos on the reg.
"Rice is higher in starch and lower in protein and fiber than some other whole grains, so when not paired with adequate amounts of fat, fiber, and protein, it can cause higher blood sugar spikes in some people," says nutritionist Kelly Jones, RD. That's a recipe for a blood sugar drop (and the hunger, irritability, and fatigue that go along with it) later.
Whether you're making a stir-fry or Thai curry, though, you've got plenty of equally-satisfying, low-carb rice alternatives you can swap in. Many of these (which you can make from veggies in the produce aisle or buy pre-made) are simple and full of good-for-you nutrition.
"Rice alternatives tend to be vegetable- and legume-based," says Jones, who recommends looking for an option that contains at least two grams of fiber per serving and pairing it with other fiber-containing foods for max satisfaction.
Next time you're craving the chewy bite and flavor-absorbing goodness of regular rice, try one of these low-carb alternatives instead.
Advertisement – Continue Reading Below
1
Cauliflower Rice
"One of the most popular low-carb rice alternatives, cauliflower rice provides some protein and fiber, plus 45 percent of the daily value of vitamin C, per serving," says Jones.
Research also suggests that cauliflower (and similar veggies) play an important role in gut health and digestion.
Per serving (3/4 cup): 20 calories, 0 g fat, 4 g carbs, 2 g fiber, 2 g sugar, 20 mg sodium, 2 g protein
2
RightRice Original Vegetable Rice Alternative
amazon.com
"Made with a blend of lentils, chickpeas and pea fiber, I love that RightRice offers 10 grams of protein and five grams of fiber per serving, and also actually tastes like rice," says Jones. (It's also super high in iron.)
Jones loves the Spanish variety, which has major paella vibes. 

Per serving (1/3 cup dried): 180 calories, 2 g fat, 30 g carbs, 5 g fiber, <1 g sugar, 390 mg sodium, 10 g protein
3
Broccoli Rice
Want to squeeze a little more green onto your plate? "Broccoli rice edges out cauliflower with an extra gram of fiber, while also providing vitamin C and gut health benefits," says Jones.
Whether you mix it into a stir fry or casserole, or blend with oats for a light and savory breakfast, it's super versatile.
Per serving (85 grams): 20 calories, 0 g fat, 4 g carbs, 3 g fiber, 1 g sugar, 20 mg sodium, 2 g protein
4
Parsnip Rice
Another great option you likely haven't thought of: parsnip rice.
"Simply throw a couple of raw parsnips into a food processor and blitz, says Sofia Norton, RD, nutritionist for Kiss My Keto. From there, sauté it in a little bit of oil until soft (about two minutes).
Try parsnip rice in risottos or pilafs.
Per serving (½ cup, cooked parsnip): 55 calories, 0.2 g fat (0 g sat), 13.3 g carbs, 2.8 g fiber, 3.7 g sugar, 7.8 mg sodium, 1 g protein
5
Banza Chickpea Rice
amazon.com
Though a little higher in the carb department, Banza's rice alternative offers five grams of fiber, plus 11 grams of protein per serving. "These nutrients are not only important for gut health and maintaining muscle, but also for boosting feelings of fullness," says Jones. 
Since it has an orzo-like texture, Jones likes to use this one in stir-fries or pesto pasta salads.
Per serving (1/4 cup, dry): 170 calories, 3 g fat, 30 g carbs, 5 g fiber, 1 g sugar, 70 mg sodium, 11 grams protein
6
Riced Mushrooms
Unexpected but true: Finely chopped mushrooms (of any variety) make for a great low-carb rice alternative. "The best thing about mushrooms is their unami flavor, which is savory and earthy," says Alex Lewis, RD, LD, nutritionist for Baze.
Lewis recommends making fried rice with one part finely chopped mushrooms with one part cauliflower rice.
Per serving (1 cup): 16 calories, 0.2 g fat (0 g sat), 2 g carbs, 1 g fiber, 1.5 g sugar, 4 mg sodium, 2 g protein
7
Miracle Noodle Shirataki Rice
amazon.com
"This rice substitute is labeled as a miracle because it contains almost no carbs or calories," says Norton." It's also soy- and gluten-free." How? Shirataki rice is made with konjac, a prebiotic fiber that's great for gut health. 
"It's best prepared blanched, since blanching helps remove much of its konjac aroma," says Norton. (Otherwise it smells a tad fishy.) Cook it up separately and then add it to stir-fries, Mexican-inspired dishes, or any other rice-containing meal.
Per serving (3 ounces): 10 calories, 0 g fat (0 g sat), 3 g carbs, 2 g fiber, 0 g sugar, 0 mg sodium, 1 g protein
8
Rutabaga Rice
This root veggie, a relative of cabbage and turnips, is slightly bitter raw, but takes on savory flavors when cooked, says Lewis. She recommends putting chopped raw rutabaga in the food processor to get that rice-like texture before cooking it up with veggie or chicken broth.
Per serving (1 cup): 53 calories, 0 g fat (0 g sat), 12 g carbs, 3 g fiber, 6 g sugar, 17 mg sodium, 1.5 g protein
9
Riced Cabbage
Though you wouldn't want to eat riced cabbage raw, "as cabbage cooks, its bitterness reduces and its flavor becomes milder, which makes it a nice addition to many dishes," says Lewis.
Cook up riced cabbage in any rice-containing recipe that needs a little extra green.
Per serving (1 cup): 17 calories, 0 g fat (0 g sat), 4 g carbs, 2 g fiber, 2 g sugar, 13 mg sodium, 1 g protein
10
Better Than Rice
amazon.com
Similar to Miracle Rice, Better Than Rice is made from purified water and organic konjac flour, but also adds organic oat fiber to the mix. 
"Because it's rich in fiber, it digests slowly and helps you feel fuller for longer," says Norton. Another major perk of this pick: It's pre-cooked!
Per serving (¾ cup): 15 calories, 0 g fat (0 g sat), 4 g carbs, 4 g fiber, 0 g sugar, 0 mg sodium, 0 g protein
11
Zucchini Rice
Cut up zucchini noodles and, voila, you've got zucchini rice. It's a great way to add bulk to your meals—and works great in Asian-inspired dishes, says Lewis.
One tip: When using zucchini, blot it with a paper towel to remove excess moisture so it does not water down any sauces or dishes you choose to pair it with.
Per serving (3 ounces): 15 calories, 0 g fat (0 g sat), 2 g carbs, 1 g fiber, 1 g sugar, 0 mg sodium, 1 g protein
12
Cascadian Farm Riced Cauliflower with Roasted Sweet Potatoes & Kale
cascadianfarm.com
This frozen blend from Cascadian Farm takes cauliflower rice to the next level. Made with just cauliflower, onion, sweet potato, and kale, it keeps flavor high but sodium low, says Jones.
It also offers 50 and 45 percent of your daily recommended value of vitamins A and C, respectively.
Per serving (2/3 cup): 35 calories, 0 g fat, 7 g carbs, 2 g fiber, 3 g sugar, 20 mg sodium, 1 g protein
Advertisement – Continue Reading Below
The 9 Best Spiralizers For Making Zoodles In 2020, According To Test Kitchen Reviews
Since zoodles made spiralized vegetables a thing a few years back, pretty much every vegetable under the sun has found itself in noodle form at some point. (Even beets…)
And, frankly, veggie noodles are kind of the bomb. "Spiralized vegetables fit into many diet styles including keto, paleo, gluten-free, vegan, and vegetarian," says dietitian Jenna Appel, RD. "They instantly boost your fiber, vitamin, mineral, and antioxidant intakes, while lowering carbs and calories (since they often replace processed carbs like pasta."
For that reason, incorporating more spiralized vegetables into your eats can help you feel more satiated while cutting down on calories so you can either lose or better maintain your weight, according to Appel.
Of course, to sneak extra veggies into your diet and make your meals look so much prettier, you need to get yourself a spiralizer. Once you have one handy, you can hit the produce aisle and go to town.
"Veggies like zucchini, carrots, beets, cucumbers, and sweet potatoes all spiralize well, but what many people don't realize is that you can also spiralize fruits, like apples, pears, and melons," says Appel. (She likes using her spiralizer to make pesto zucchini noodles with chicken or cozy sweet potato noodles with meatballs.)
But which spiralizers will turn your veggies into true noodles—and not just stringy piles of mush? Since there are an overwhelming number of options on Amazon, the Women's Health Test Kitchen tried out a ton of veggie spiralizers to narrow down the best of the best.
Here are nine of the best spiralizers out there, from the hand-helds to the electric-powered.
The 10 Best Edible Flowers To Decorate Your Food, According To A Nutritionist
Not long ago, edible flowers were reserved for fancy bakeries and Michelin-starred restaurants. And then Instagram happened. Fun as decorating your smoothie bowls and other eats with edible flowers may be, though, it's not a total free-for-all. (No, you can't just turn any old bouquet into a salad.)
"The term, 'edible' simply indicates that the flower was grown in a food-safe way, meaning it wasn't treated with unsafe pesticides or preservatives," explains Todd Seyfarth, RD, dietitian, chef, chair of the Department of Nutrition and Dietetics at Johnson & Wales University. "It also means that the flower doesn't naturally contain any compounds we've identified as dangerous or toxic."
Not all edible flowers are actually worth eating, though. "Often, plants with vivid and deep colors are bitter on the palate, so [appreciation for their taste] will vary from person to person," says Seyfarth. If you're not a fan of bitter flavor, you'll probably want to remove those deep-hued petals from your food after snapping a pic for the 'gram.
That said, deeply-colored flowers are often the most nutrient-rich (like all edible plants, edible flowers contain important vitamins and minerals). "The more colorful the plant and deeper the flavor, the more antioxidant power the plant usually has," Seyfarth says.
If you're intrigued by flowering up your food, make sure to only purchase flowers marked as edible. "They are harder to find, but gourmet grocers usually have them," says Seyfarth.
From there, you'll want to prep your flowers a little differently than other fruits and vegetables. "Most flowers are very delicate and will be damaged by rough washing," says Seyfarth, who recommends dipping edible flowers into a bowl of clean water and carefully hand-drying them.
Add some flower power to your next meal with one of the following 10 popular edible petals.
The 8 Best Non-Dairy Coffee Creamers That Taste As Good As Half-And-Half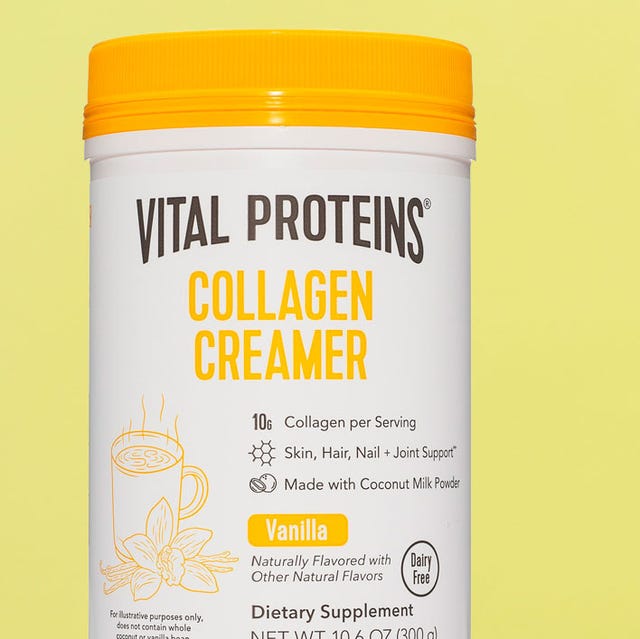 Jason Speakman
Not long ago, if you wanted to keep your morning coffee plant-based, you were stuck with a rather lame splash of soy or almond milk. Thanks to all sorts of new non-dairy creamers hitting store shelves, though, you can now make your java super creamy and dreamy—without using anything that comes from a cow.
"Many people are moving away from cow's milk and toward non-dairy milks, like almond and rice, for health and environmental reasons," says meatless dietitian Kristine Duncan, RDN. And now that plant-based milks and yogurts have gone mainstream, non-dairy creamers are a natural next step.
In addition to being more sustainable and easier on your stomach (I feel you, lactose intolerant peeps), non-dairy creamers are often lower in calories and boast better nutrition than your usual salted caramel half-and-half.
"Many people who add cream and sugar to their coffee don't consider the additional calories," Duncan says. Just one tablespoon of heavy cream contains about 50 calories, and many popular creamers contain upwards of five grams of sugar (not to mention artificial ingredients) per serving.
Non-dairy options, meanwhile, often contain less than 10 calories and little sugar per serving, says Duncan. They're typically lower in saturated fat, too.
To make sure your dairy-free creamer is quality, make sure the first ingredients on its ingredient list aren't sugar or oil, Duncan recommends. (If you plan to add your own sugar, opt for a creamer that's completely unsweetened.)
Ready to mix up your morning cup of Joe? These eight nutritionist-approved non-dairy creamers are everything you've wanted and more.
Advertisement – Continue Reading Below
1
Nut Pods Original Unsweetened Oat Creamer
nutpods.com
Made with just oat milk, vegetable oils, and thickeners, this creamer keeps it simple. Though oat milk isn't anything fancy, its natural sweetness and creamy texture have made it one of the most popular dairy-free coffee-enhancers out there right now, Duncan says. Nut Pods' unsweetened option is a good one. 
Per tbsp: 10 calories, 1 g fat (0 g saturated), 0 g carbs, 0 g sugar, 0 mg sodium, 0 g fiber, 0 g protein
2
Califia Farms Original Better Half Coconut Cream & Almondmilk Creamer
califiafarms.com
This cleverly-named half-and-half from Califia Farms is made with almond milk and coconut cream for sweet flavor and thick, creamy texture. Since it's fortified with calcium, you'll also score a small amount of the bone-building mineral that dairy usually boasts about.
Per tbsp: 10 calories, 1 g fat (0.5 g saturated), 0.5 g carbs, 0.5 g sugar, 15 mg sodium, 0 g fiber, 0 g protein
3
Vital Proteins Vanilla Collagen Creamer
vitalproteins.com
Some people find that adding collagen to their coffee really ups the froth factor (especially when blended). Made with collagen protein from grass-fed, pasture-raised cows and coconut milk powder, this creamer is a little higher in calories, but can add staying power to your morning sips.
Bonus: It's Whole30-approved. 
Per tbsp: 70 calories, 4.5 g fat (4.5 g saturated), 2 g carbs, 0.5 g sugar, 28 mg sodium, 0 g fiber, 5 g protein
4
Nutiva Organic MCT Creamer
nutiva.com
If you're all about the Bulletproof coffee or keto life, this fat-fueled creamer is for you, Duncan suggests. It's made from organic coconut oil, coconut milk powder, and coconut sugar. (Hope you like the taste of coconut.)  
Per tbsp: 40 calories, 3 g fat (3 g saturated), 1 g carbs, 1 g sugar, 0 mg sodium, 1 g fiber, 0 g protein
5
New Barn Barista Almondmilk Creamer
newbarnorganics.com
This almond milk is richer and creamier than most options, and contains a little cane sugar for just the sweetness your java needs.
"It may be sweetened, but it has a very simple ingredient list," says Duncan. "Plus, it's slightly lower in calories than the others."
Per tbsp: 8 calories, 0.5 g fat (0 g saturated), 1 g carbs, 1 g sugar, 3 mg sodium, 0 g fiber, 0 g protein
6
Silk Original Dairy-Free Soy Creamer
silk.com
Since Silk is such a mainstream brand, this dairy-free creamer is probably one of the easiest to find. It's made with soy milk, sugar, oil, and thickeners, so it feels a little more indulgent than some of the other options, says Duncan.
Per tbsp: 20 calories, 1.5 g fat (0.5 g saturated), 2 g carbs, 1 g sugar, 0 mg sodium, 0 g fiber, 0 g protein
7
So Delicious Organic Dairy-Free Coconutmilk Creamer
sodeliciousdairyfree.com
Made with basically just coconut cream and water, this unsweetened creamer has big, sweet coconut flavor, says Duncan. You won't even miss the sugar. 
Per tbsp: 15 calories, 1 g fat (1 g saturated), 0 g carbs, 0 g sugar, 10 mg sodium, 0 g fiber, 0 g protein
8
Ripple Original Plant-Based Half & Half
ripplefoods.com
If you're looking for an alternative to nut milk-based creamers, try this one, suggests Duncan. It's made with just pea protein, oil, water, and thickeners. Though not the lowest-calorie option of the bunch, it contains zero grams of saturated fat—a plus for those watching their intake.
Per tbsp: 18 calories, 2 g fat (0 g saturated), 0 g carbs, 0 g sugar, 30 mg sodium, 0 g fiber, 0 g protein
Advertisement – Continue Reading Below