Your Guide To All The Different Types Of Milk In The Dairy Aisle These Days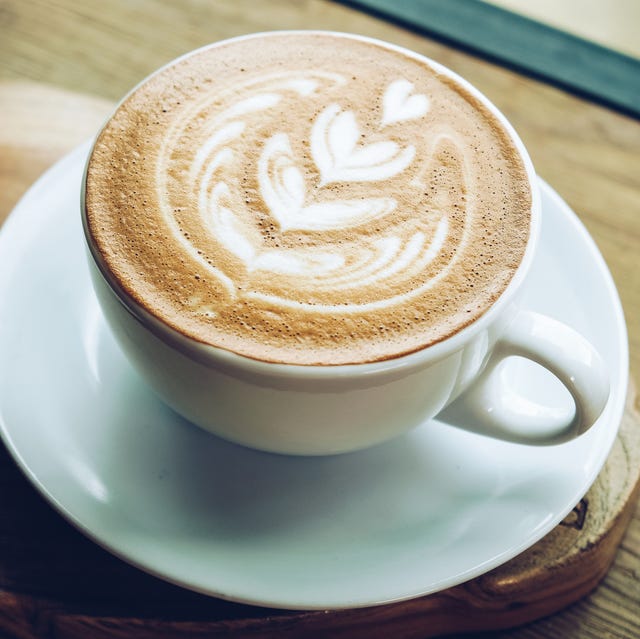 Boy_AnupongGetty Images
If the dairy aisle could do the #10yearchallenge, it wouldn't even recognize itself. I mean, half of what's in the dairy aisle these days isn't even dairy at all.
Back in the day, you had just a few types of milk to choose from: whole milk, skim milk, and maybe soy for the hippies. Today, though? As more and more people ditch dairy for a plant-based diet, options abound.
From all sorts of dairy milks (I saw half-percent milk the other day, I kid you not) to a seemingly endless array of plant-based "milks" made from oats, cashews, and everything in between, the selection is honestly a little overwhelming. (How does one milk a cashew, exactly?)
While you can use pretty much any of these milk and milk alternatives to lighten your coffee or soak your cereal, there are some subtle and not-so-subtle differences in taste, texture, and nutrition, you should know about, says dietitian Brittany Modell, RD, CDN, founder of Brittany Modell Nutrition and Wellness.
Plus, there are a few things to look out for in those plant-based milks. "Be wary of the added sugar and other ingredients," Modell says. Look for a carton that's unsweetened and be mindful that thickening agents, like carrageenan or xanthan gum, while probably harmless, are pretty under-researched.
Which creamy liquid should you ultimately go for? Consider this your guide to all of your milk and not-milk options.
Advertisement – Continue Reading Below
1
Skim Milk
Fat-free skim milk was all the rage in the '90s, when low-fat diets were king.
"However, we now know that fat isn't so bad after all," says Modell. "In fact, studies show that fat actually increases satiety."
Though skim may get the job done in that bowl of cereal, Modell doesn't recommend it for baking or cooking, since it does not add much flavor or richness.
Per cup: 80 calories, 0 g fat (0 g sat fat), 125 mg sodium, 12 g carbs, 12 g sugar, 12 g fiber, 8 g protein
2
Whole Milk
"Unlike skim milk, whole milk has all of its fat content intact," says Modell. (This, unsurprisingly, makes it higher in calories.)
Though a cup of whole milk contains five grams of saturated fat (the kind many experts recommend limiting to no more than 10 percent of your total calories), it can absolutely be part of an overall healthy diet.
Whole milk comes in clutch in cooking and baking, and acts as a tenderizer and moisturizer, says Modell. Cakes and muffins made with whole milk tend to not dry out as much and have a finer crumb.
Per cup: 150 calories, 8 g fat (5 g sat fat), 106 mg sodium, 12 g carbs, 12 g sugar, 0 g fiber, 8 g protein
3
2% Milk
"With fewer calories than whole milk but more than skim, 2 percent milk is a great in-between," Modell says.
When it comes to cooking, 2 percent is great when you want to cut down on fat without totally sacrificing the lusciousness of your eats.
Per cup: 122 calories, 5 g fat (3 g sat fat), 125 mg sodium, 12 g carbs, 12 g sugar, 0 g fiber, 8 g protein
4
Lactose-Free Milk
"Lactose-free dairy products are a great option for people who are lactose-intolerant," Modell says.
To make lactose-free milk out of regular dairy milk, the lactose (the sugar found in milk that gives lots of people's stomachs trouble) is hydrolyzed, meaning it is predigested. Otherwise, lactose-free milk offers all the good stuff (like calcium and other nutrients) that's in regular milk.
That said, if you digest regular milk no problem, lactose-free milk probably isn't worth the slightly higher price tag.

Per cup (2% lactose-free milk): 122 calories, 5 g fat (3 g sat fat), 115 mg sodium, 12 g carbs, 12 g sugar, 0 g fiber, 8 g protein
5
Almond Milk
"One of the most popular plant-based milks on the market, almond milk is significantly lower in calories, fat, and protein than cow's milk," Modell says. "It is naturally rich in several vitamins and minerals, especially vitamin E.
Though it works in cooking and baking, almond milk is thinner in both texture and flavor than cow's milk, so it won't cut the bitterness of coffee as well.

Per cup (unsweetened): 37 calories, 2.5 g fat (0 g sat fat), 173 sodium, 1.5 g carbs, 0 g sugar, 0 g fiber, 1.5 g protein
6
Cashew Milk
Like almond milk, cashew milk is low in calories and fat. "Cashew milk is also a good source of polyunsaturated fats, vitamin, A, and vitamin E," Modell says.
With a nutty, creamy rich texture, cashew milk is a great addition to smoothies.
Per cup (unsweetened): 25 calories, 0 g fat (0 g sat fat), 160 mg sodium, 1 g carbs, 0 g sugar, 0 g fiber, <1 g protein
7
Oat Milk
"Known for its creaminess and flavor, oat milk has gained some fame this year," Modell says.
Though it's higher in calories than many other plant-based milks, it's also a little higher in protein. Oh, and that creaminess? It comes from oat milk's higher carb count, which also provides some extra fiber.
Thanks to oat milk's heartier flavor and texture, it's become a popular plant-based milk in coffee shops. Try it in a latte when you're feeling fancy.
Per cup (unsweetened): 100 calories, 7 g fat (1 g sat fat), 100 mg sodium, 9 g carbs, 2 g sugar, 1 g fiber, 2 g protein
8
Rice Milk
Rice milk is a popular option for dairy-free eaters with soy or nut allergies, says Modell.
Though naturally sweet, it has a distinct flavor that doesn't taste as milk-like as many other plant-based alternatives. Unless you have an allergy or particularly like its unique flavor, rice milk prooobably isn't about to be your new go-to.
Per cup (unsweetened): 113 calories, 2.5 g fat (0 g sat fat), 94 mg sodium, 22 g carbs, 13 g sugar, 0.5 g fiber, 0.5 g protein
9
Soy Milk
"A rich source of protein and carbohydrates, soy milk is the plant-based alternative most comparable to cow's milk," Modell says. (It's just lower in saturated fat and doesn't natural contain calcium, though it's often fortified.)
In Modell's opinion, if you're going to cook or bake with a milk alternative, soy milk gets the job done beautifully.
Per cup: 105 calories, 3.5 g fat (0.5 g sat fat), 115 mg sodium, 12 g carbs, 9 g sugar, 0.5 g fiber, 6.5 g protein
10
Coconut Milk
Coconut milk is high in fat, particularly saturated fat, which gives it a super thick and creamy texture.
Though coconut milk's fat content makes it great for cooking and baking, its distinct flavor means it doesn't typically work in coffee or cereal, unless you really love coconut.
Per cup (full-fat, canned): 445 calories, 48 g fat (43 g sat fat), 29 mg sodium, 6 g carbs, 4.5 g protein
Advertisement – Continue Reading Below
The 9 Best Spiralizers For Making Zoodles In 2020, According To Test Kitchen Reviews
Since zoodles made spiralized vegetables a thing a few years back, pretty much every vegetable under the sun has found itself in noodle form at some point. (Even beets…)
And, frankly, veggie noodles are kind of the bomb. "Spiralized vegetables fit into many diet styles including keto, paleo, gluten-free, vegan, and vegetarian," says dietitian Jenna Appel, RD. "They instantly boost your fiber, vitamin, mineral, and antioxidant intakes, while lowering carbs and calories (since they often replace processed carbs like pasta."
For that reason, incorporating more spiralized vegetables into your eats can help you feel more satiated while cutting down on calories so you can either lose or better maintain your weight, according to Appel.
Of course, to sneak extra veggies into your diet and make your meals look so much prettier, you need to get yourself a spiralizer. Once you have one handy, you can hit the produce aisle and go to town.
"Veggies like zucchini, carrots, beets, cucumbers, and sweet potatoes all spiralize well, but what many people don't realize is that you can also spiralize fruits, like apples, pears, and melons," says Appel. (She likes using her spiralizer to make pesto zucchini noodles with chicken or cozy sweet potato noodles with meatballs.)
But which spiralizers will turn your veggies into true noodles—and not just stringy piles of mush? Since there are an overwhelming number of options on Amazon, the Women's Health Test Kitchen tried out a ton of veggie spiralizers to narrow down the best of the best.
Here are nine of the best spiralizers out there, from the hand-helds to the electric-powered.
The 10 Best Edible Flowers To Decorate Your Food, According To A Nutritionist
Not long ago, edible flowers were reserved for fancy bakeries and Michelin-starred restaurants. And then Instagram happened. Fun as decorating your smoothie bowls and other eats with edible flowers may be, though, it's not a total free-for-all. (No, you can't just turn any old bouquet into a salad.)
"The term, 'edible' simply indicates that the flower was grown in a food-safe way, meaning it wasn't treated with unsafe pesticides or preservatives," explains Todd Seyfarth, RD, dietitian, chef, chair of the Department of Nutrition and Dietetics at Johnson & Wales University. "It also means that the flower doesn't naturally contain any compounds we've identified as dangerous or toxic."
Not all edible flowers are actually worth eating, though. "Often, plants with vivid and deep colors are bitter on the palate, so [appreciation for their taste] will vary from person to person," says Seyfarth. If you're not a fan of bitter flavor, you'll probably want to remove those deep-hued petals from your food after snapping a pic for the 'gram.
That said, deeply-colored flowers are often the most nutrient-rich (like all edible plants, edible flowers contain important vitamins and minerals). "The more colorful the plant and deeper the flavor, the more antioxidant power the plant usually has," Seyfarth says.
If you're intrigued by flowering up your food, make sure to only purchase flowers marked as edible. "They are harder to find, but gourmet grocers usually have them," says Seyfarth.
From there, you'll want to prep your flowers a little differently than other fruits and vegetables. "Most flowers are very delicate and will be damaged by rough washing," says Seyfarth, who recommends dipping edible flowers into a bowl of clean water and carefully hand-drying them.
Add some flower power to your next meal with one of the following 10 popular edible petals.
The 8 Best Non-Dairy Coffee Creamers That Taste As Good As Half-And-Half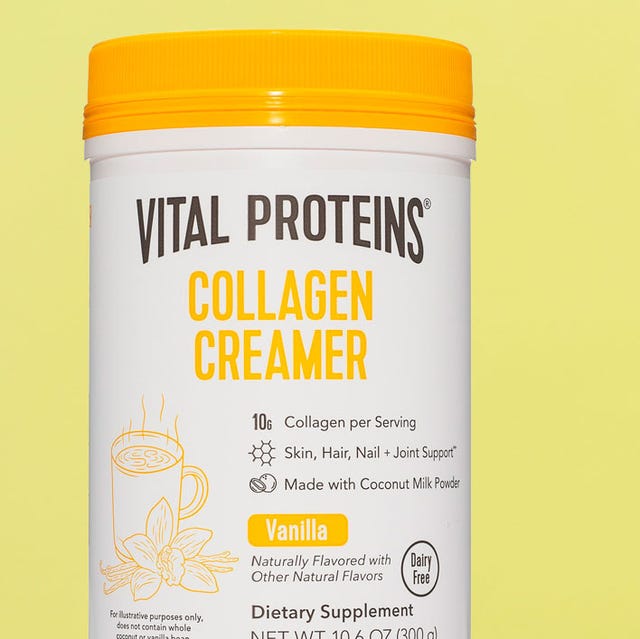 Jason Speakman
Not long ago, if you wanted to keep your morning coffee plant-based, you were stuck with a rather lame splash of soy or almond milk. Thanks to all sorts of new non-dairy creamers hitting store shelves, though, you can now make your java super creamy and dreamy—without using anything that comes from a cow.
"Many people are moving away from cow's milk and toward non-dairy milks, like almond and rice, for health and environmental reasons," says meatless dietitian Kristine Duncan, RDN. And now that plant-based milks and yogurts have gone mainstream, non-dairy creamers are a natural next step.
In addition to being more sustainable and easier on your stomach (I feel you, lactose intolerant peeps), non-dairy creamers are often lower in calories and boast better nutrition than your usual salted caramel half-and-half.
"Many people who add cream and sugar to their coffee don't consider the additional calories," Duncan says. Just one tablespoon of heavy cream contains about 50 calories, and many popular creamers contain upwards of five grams of sugar (not to mention artificial ingredients) per serving.
Non-dairy options, meanwhile, often contain less than 10 calories and little sugar per serving, says Duncan. They're typically lower in saturated fat, too.
To make sure your dairy-free creamer is quality, make sure the first ingredients on its ingredient list aren't sugar or oil, Duncan recommends. (If you plan to add your own sugar, opt for a creamer that's completely unsweetened.)
Ready to mix up your morning cup of Joe? These eight nutritionist-approved non-dairy creamers are everything you've wanted and more.
Advertisement – Continue Reading Below
1
Nut Pods Original Unsweetened Oat Creamer
nutpods.com
Made with just oat milk, vegetable oils, and thickeners, this creamer keeps it simple. Though oat milk isn't anything fancy, its natural sweetness and creamy texture have made it one of the most popular dairy-free coffee-enhancers out there right now, Duncan says. Nut Pods' unsweetened option is a good one. 
Per tbsp: 10 calories, 1 g fat (0 g saturated), 0 g carbs, 0 g sugar, 0 mg sodium, 0 g fiber, 0 g protein
2
Califia Farms Original Better Half Coconut Cream & Almondmilk Creamer
califiafarms.com
This cleverly-named half-and-half from Califia Farms is made with almond milk and coconut cream for sweet flavor and thick, creamy texture. Since it's fortified with calcium, you'll also score a small amount of the bone-building mineral that dairy usually boasts about.
Per tbsp: 10 calories, 1 g fat (0.5 g saturated), 0.5 g carbs, 0.5 g sugar, 15 mg sodium, 0 g fiber, 0 g protein
3
Vital Proteins Vanilla Collagen Creamer
vitalproteins.com
Some people find that adding collagen to their coffee really ups the froth factor (especially when blended). Made with collagen protein from grass-fed, pasture-raised cows and coconut milk powder, this creamer is a little higher in calories, but can add staying power to your morning sips.
Bonus: It's Whole30-approved. 
Per tbsp: 70 calories, 4.5 g fat (4.5 g saturated), 2 g carbs, 0.5 g sugar, 28 mg sodium, 0 g fiber, 5 g protein
4
Nutiva Organic MCT Creamer
nutiva.com
If you're all about the Bulletproof coffee or keto life, this fat-fueled creamer is for you, Duncan suggests. It's made from organic coconut oil, coconut milk powder, and coconut sugar. (Hope you like the taste of coconut.)  
Per tbsp: 40 calories, 3 g fat (3 g saturated), 1 g carbs, 1 g sugar, 0 mg sodium, 1 g fiber, 0 g protein
5
New Barn Barista Almondmilk Creamer
newbarnorganics.com
This almond milk is richer and creamier than most options, and contains a little cane sugar for just the sweetness your java needs.
"It may be sweetened, but it has a very simple ingredient list," says Duncan. "Plus, it's slightly lower in calories than the others."
Per tbsp: 8 calories, 0.5 g fat (0 g saturated), 1 g carbs, 1 g sugar, 3 mg sodium, 0 g fiber, 0 g protein
6
Silk Original Dairy-Free Soy Creamer
silk.com
Since Silk is such a mainstream brand, this dairy-free creamer is probably one of the easiest to find. It's made with soy milk, sugar, oil, and thickeners, so it feels a little more indulgent than some of the other options, says Duncan.
Per tbsp: 20 calories, 1.5 g fat (0.5 g saturated), 2 g carbs, 1 g sugar, 0 mg sodium, 0 g fiber, 0 g protein
7
So Delicious Organic Dairy-Free Coconutmilk Creamer
sodeliciousdairyfree.com
Made with basically just coconut cream and water, this unsweetened creamer has big, sweet coconut flavor, says Duncan. You won't even miss the sugar. 
Per tbsp: 15 calories, 1 g fat (1 g saturated), 0 g carbs, 0 g sugar, 10 mg sodium, 0 g fiber, 0 g protein
8
Ripple Original Plant-Based Half & Half
ripplefoods.com
If you're looking for an alternative to nut milk-based creamers, try this one, suggests Duncan. It's made with just pea protein, oil, water, and thickeners. Though not the lowest-calorie option of the bunch, it contains zero grams of saturated fat—a plus for those watching their intake.
Per tbsp: 18 calories, 2 g fat (0 g saturated), 0 g carbs, 0 g sugar, 30 mg sodium, 0 g fiber, 0 g protein
Advertisement – Continue Reading Below